Hi my name is Tanya Nicholle Tudor, creator of TNT Body-Mind Fitness. I'm originally from Barbados & have my masters in Traditional Chinese Medicine. I think equilibrium's the key to most everything, bearing in mind that balance is relative to each person, & it is very important to understand what "symmetry" means to and for you. I look forward to working with persons who are looking for those additional tools to help them redefine their health lifestyle.
Get to know yourself better, believe in yourself and then the working out or rather "playing-out" is not all that difficult to follow. I welcome the opportunity to provide you with some basic, easy to follow overall fitness principles customized just for you. Achieve results that bring you joy.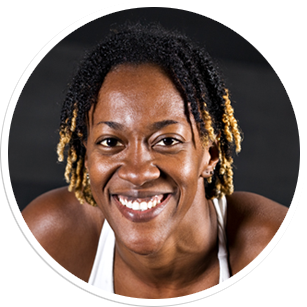 About
TNT Body–Mind Fitness is Austin's only fitness enterprise providing exercise practices with holistic based assessment packages to make sure you attain a long–lasting healthy lifestyle.
I got into fitness because I believe that everyone deserves to be healthy and happy, but not everyone understands how to reach those goals on their own.
Physical fitness is important, but it's only one aspect of your well–being. My fitness approach is based on a personalized service that incorporates fitness, nutrition and body–type assessments based on
Traditional Chinese Medicine (TCM) philosophy.
That philosophy treats each person as the unique individual they are and that's the approach I take when augmenting your exercise packages. I obtained my masters in TCM to further assist me in tailoring to your needs – entailing a variety of exercise techniques that are equally effective, interesting and fun.
Remove barriers and optimize your fitness lifestyle so you will have the energy and time for the other facets of your life.
I look forward to providing you with the tools you will need to achieve the overall fitness and health solutions that bring you joy. A complete body–mind incorporation.
Rates & Packages
What you get:
A restored understanding of yourself, your health and your body in movement
Long-lasting results with an alternative minded approach
Exercises that are fun, effective & customized just for you
Improved body-awareness; strength; metabolism, eating habits, sleep patterns & overall somatic health
Goal and body assessments. Documented with pictures because TNT wants you to know that everyone's picture-worthy
3-Month-Benchmarks to help you achieve your goals
Facebook, blog, Instagram, etc, fitness; TCM; nutritional and general feel-good quotes and tips
24/7 email access with me for any queries
You (the Client) commits to full month's payment at the start of each cycle with cheque, credit card or cash. You will receive a reminder email within the prior week that payment is forthcoming. Payment is due within the first week of each month.
Payment can be made directly with your trainer. You (the Client) is responsible for ensuring payment is made on time.
Session Rates
Sessions
Time/cost
Breakdown

2 Sessions per week
(approx. 8 sessions per month)

$125/hr

$1,000 per month

$90/45 mins

$720 per month

$60/30 mins

$480 per month

1 session per week

Halve the above rates

2 persons

45 minutes

Available at $45/person

3-5 persons
1 session per week
$33/person
$132 per month
2 sessions per week
$25/person
$200 per month
Training; Presentations and Corporate Speaking Engagements:
Rates for the aforementioned events vary for a multitude of factors, and range from $1,000 - $10,000 minimum.
TNT is deeply committed to overall health and fitness for everyone. Services should be available to all regardless of economic status. Therefore, to the extent possible, TNT provides sliding scale rates as appropriate.
If your situation requires consideration of a rate adjustment do not hesitate to ask!
Packages
Following are discounted multi-month packages:
For 2 (or more) 45 & 30 minute sessions per week:

3 months (24 sessions) = $100 OFF (30 min = $50 OFF)
6 months (48 sessions) = $200 OFF (30 min = $125 OFF)
9 months (72 sessions) = $300 OFF (30 min = $200 OFF)
12 months (96 sessions) = $400 OFF (30 min = $250 OFF)
If training once a week: discounts ONLY apply to 9 & 12 month pre-payments. Halve the above discounts for the corresponding training-time period.
Early Morning & Off-Site training:
Sessions before 7:15am will be considered; if accepted there will be an additional early morn fee of $20 - $25.
TNT provides on-site personal training sessions; rates vary depending on distance to & from TNT starting location.
Group training discounts – 1 and 2 sessions per week:
3 months = 3% OFF
6 months = receive 1 session free in final month
9 months = receive 2 sessions free in final month
12 months = receive 3 sessions free in final month
BONUS SAVINGS & BENEFITS:
Refer friend to Zija who purchases upwards of $77 in products = FREE TNT session
If you (client) purchases any Zija for 3 consecutive months:

Min $50 each month receive $50 OFF next training package
Min $100 each month receive $100 OFF next training package
Min $150 each month receive $150 OFF next training package

(Discounts will be applied even if you are part of another discounted training package.)
Like FB page and be entered to win TNT health package: Zija samples, discount training and giftcards!
Write 5-star review on yelp, etc. and receive 5% OFF training session.
Testimonials
Tanya Tudor is amazing guide in the realm of fitness and health. I attend both a boot camp and private lessons and she is excellent in tailoring routines and exercises to fit my body and my goals. And she straight up rocks and plays awesome music!!!!
Working out with Tanya in our small group session is like being at a Caribbean beach party where everyone is having a good time and dancing to the music. I'm gaining strength, stability and conditioning, but it just feels like fun. The workout changes every time and Tanya's knowledge and creativity really shine in her sequences. She checks in with me on my goals regularly and is probably the most positive person I have ever met.
I had a severe elbow injury that restricted my ability to workout. I spoke with Tanya about it who was very understanding and responsive to my concerns. She helped me identify areas that needed improvement and developed a program focused on physical rehab. After only two months of personal and group workout sessions, I built body strength, lost weight and more importantly I regained confidence to return to other sports.
I have been working out with Tanya for 1-1 personal training for a few months now. The best part about Tanya's style is her incredible energy and making the workout fun! She is knowledgeable about core fitness principles and also working different muscle groups for results. The interval sets she puts together makes the time go by quickly and her motivation throughout the workout helps to push through the tough parts. Great music selection too!
Benchmarks
Physical Activity Readiness Questionnaire
There will be mandatory 3-month-benchmarks. i.e. you get to set 1, 2 or 3 goals for yourself every 3 months. That's a long enough period for the change to become part of your regular routine & for you to see results.
The benchmark goals don't always have to be lofty ones of losing 50lbs or gaining 20lbs of muscle, they can be as simple (& just as important) as making sure you have enough glasses of water each day.
We as human beings tend to work better with a finish line in mind. The 3-month-benchmarks are meant to help encourage you steadily towards your goals, not feel overwhelming & unattainable. To help you maintain patience with yourself - you will also set a low, medium & high level within those benchmarks.
For example "My benchmark goal is to drink more water each day. The least I can drink is 6, ideal is 8 & any glasses 9 & up are optimum."
You can structure that anyway you like: whether you utilize that ladder as a daily mark; or use it to structure each month (eg) "Start your first month with 7 glasses of water; working your way up to 9 glasses in month two; then 11 glasses in month three." It's whichever way allows you to improve.
Once you've made your goals we'll assess how best for you to maintain them; there will be regular checkins with me; tips on how to keep progressing & with every 8 benchmark goals you attain you get 1 session free reward ;-)